What to Bake for Valentine's Day to Make Anybody Love You
Or, more accurately, recipes you can make to impress your friends, crush or hookup
By Emily Martin
It's that time of year to profess your love and sexual attraction to the gorgeous person you've been admiring from afar! Valentine's Day can be stressful, especially if you're single, but I'm here to lay out recipes for you to bake your way into someone's heart and turn whatever you have into whatever you want. Whether you're trying to let your friends know they're super important to you, trying to get the attention of your star-crossed lover, you're DTF or DTR, there's something for everyone to bake in their East Campus lounge or Avalon apartment kitchen.
Note: I adapted these recipes from some fancy ones I found online to fit my lazy baking needs and skills more easily, so they're def more college student friendly now!
Platonic Love: dark chocolate shortbreads
This recipe is literally my favorite thing to make because it's so easy, with very few ingredients, but it tastes like you put hours of effort into it. You can pop these out within 30 minutes and boom: chocolate heaven.
If you're trying to make that random cool person in your class finally be your friend, or just want to express your platonic love to your roommate, these are the perfect baked good that won't take too much time out of your day, leaving you just enough time to bang out that essay due at midnight.
Ingredients
2 sticks unsalted butter, softened

1/2 cup powdered sugar, sifted

1/2 cup dark cocoa powder, sifted

2 teaspoons vanilla

1 1/2 cups all-purpose flour

1 cup dark chocolate chips
Instructions
Preheat the oven to 325 degrees.

Cream the butter, cocoa powder and sugar with a hand mixer until completely combined and smooth. Add in the vanilla.

Mix in the flour, then fold in the chocolate chips.

Turn the dough out onto a board dusted with cocoa powder. Flatten the dough with the palm of your hand until it is about a 1/3 inch thickness.

Use a glass to cut approx. 12 three-inch cookies.

Place the cookies on a parchment lined baking sheet and bake for 12-15 minutes.

Cool them on the baking sheet for 10 minutes, then transfer them to a cooling rack until completely cooled.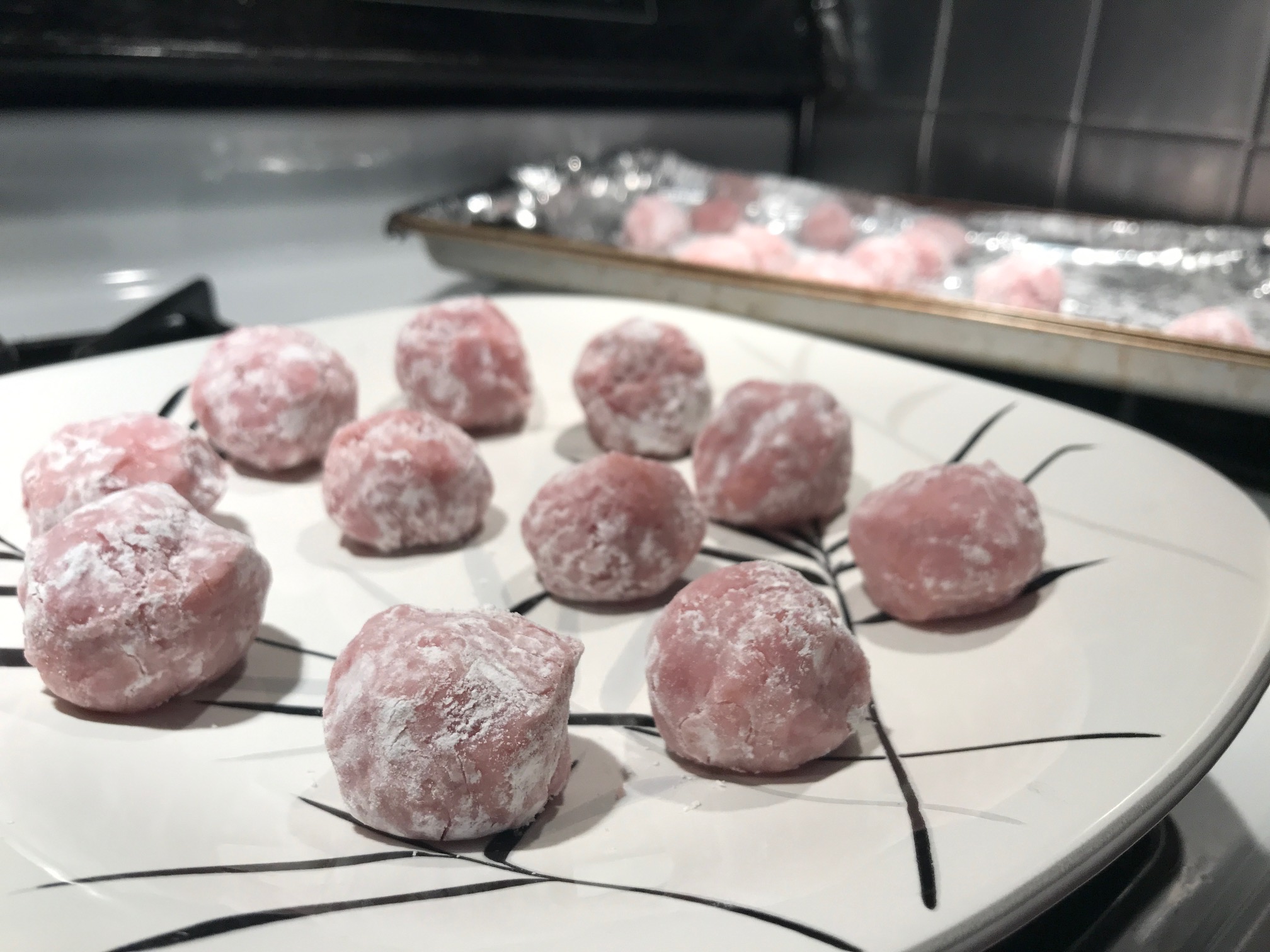 Secret Crush: white chocolate raspberry truffles
These extremely decadent and sweet truffles will make that sweet, sweet boy quietly sitting in the corner of the Dav every Wednesday finally notice you and your large dirty chai. You know the one—he's reading David Foster Wallace and you can tell it's for fun and not for class.
Plus, these won't make it seem like you're trying too hard because these truffles have only 5 ingredients, and you just mix it then let it cool until you want to ball 'em up, meaning they're low stress. Instead of the person that stares at him once a week, you'll be raspberry truffle person, and maybe even a significant other soon!
P.S. I was unable to find freeze dried raspberries at the Cathedral Heights Giant lol so I just tried my best to get the juice out of regular raspberries by crushing them, baking them for about 15 minutes then draining the juice out in a colander. So you can try this, too!
Ingredients
12 ounces white chocolate chips

1 stick butter unsalted, softened

5 tablespoons heavy cream

2 cups raspberries

1/2 cup powdered sugar
Instructions
Add freeze dried raspberries to the food processor and pulse to make a powder. Set aside.

Add heavy cream to a small sauce pan on medium heat and simmer over low heat or microwave for 1 minute, until hot and boiling. When heavy cream just starts to boil, remove it from heat and stir in butter until fully combined and smooth.
Stir in the raspberry powder. Set aside to come to room temperature.

Add white chocolate to a microwave safe bowl, and microwave on high in 20 seconds intervals until chocolate is melted, stirring in between intervals.

Add melted white chocolate to the butter mixture and stir well to combine. Cover with plastic wrap and place in the fridge for 1-2 hours, stirring every half hour.

Use a small ice cream scoop or a measuring spoon, scoop the mixture and roll into balls, roll into powdered sugar and place on waxed paper.

Store the truffles in the fridge!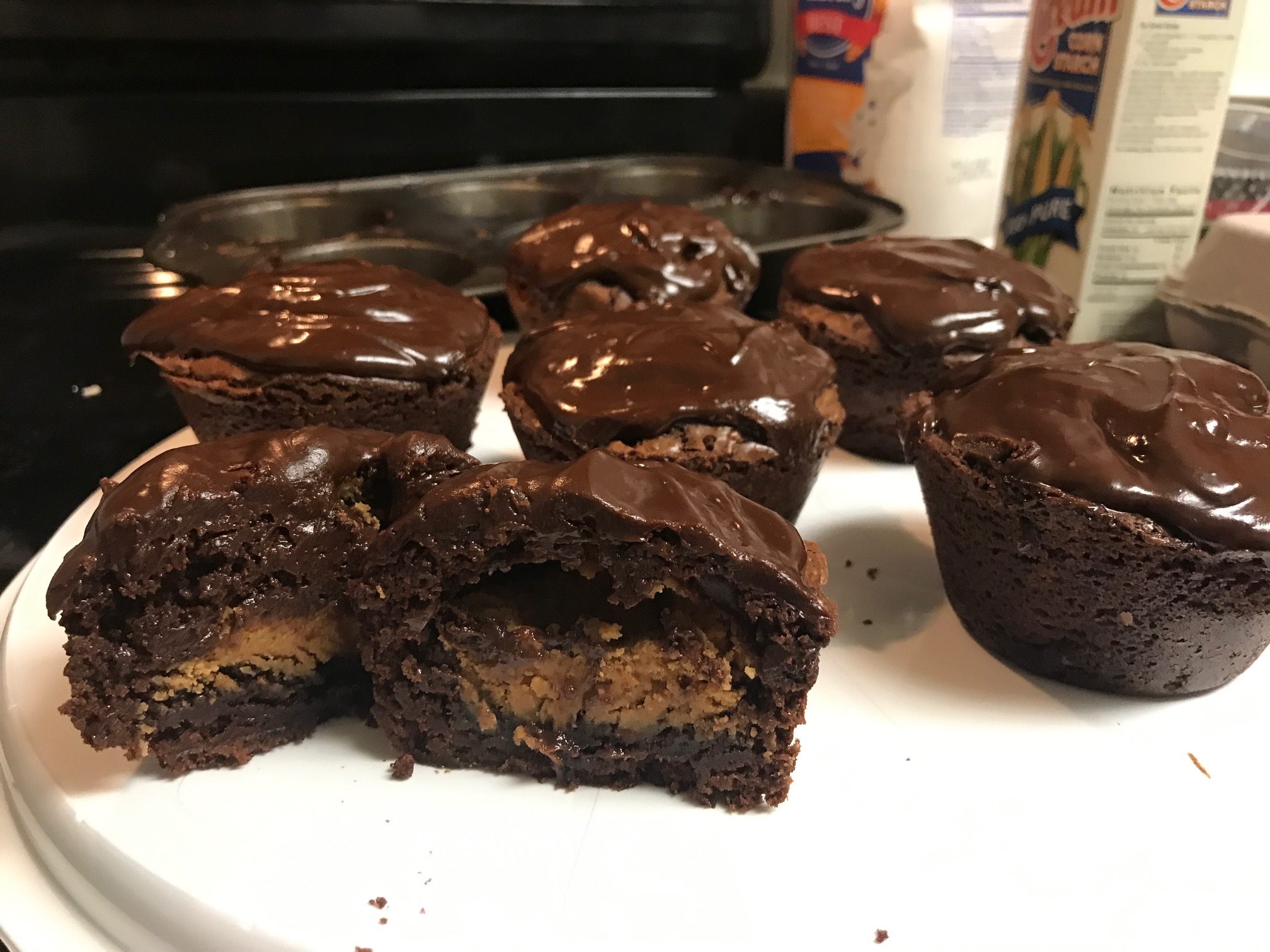 Are you DTF?: peanut butter brownie bombs w/ chocolate peanut butter ganache
Alright, so, you've already winked and flirted and subtly moved closer to them but they still haven't gotten the hint. Maybe they're oblivious or maybe you just haven't shot your shot, but these literal bombs of sweetness will let them finally know that you are truly D. T. F.
I first made this recipe back when I was 13 years old and thought I would become a professional baker. It's still a dream of mine, but now I'm making this for an article and not for my better-than-Georgetown-Cupcakes bakery so we're moving on. It's a combination of all things decadent with the best combo ever: peanut butter and chocolate. You bite into the crunchy outside of the brownie with the smooth ganache dripping off the top to get to a creamy peanut butter center. It's literal sex in a cupcake (get it)?
That special someone will take one bite and finally realize that all their sexual fantasies have been about you.
Ingredients
For brownie batter:
1 box of Ghirardelli double chocolate brownie mix

1/4 cup water

1/3 cup vegetable oil

1 egg
For filling:
1/2 cup of smooth peanut butter

1/2 cup of powdered sugar

2 tablespoons melted butter

2 teaspoons vanilla
For ganache:
2.5 ounces bittersweet chocolate, chopped

1/8 cup smooth peanut butter

1/4 cup heavy cream

1/4 teaspoon vanilla extract
Instructions
Preheat oven to 325 degrees and grease a large muffin tin.

Mix brownie batter according to instructions on box. Pour batter into each tin, filling it about 2/3 of the way.

For the filling, add the peanut butter, powdered sugar and vanilla in a mixing bowl. Melt the butter in a separate bowl in the microwave and then add to the filling and mix well.

Take about a tablespoon of the filling (or however much you want) and put one in each of the tins on top of the batter. Take the rest of the batter and cover the filling for each cupcake.

Put cupcakes in the oven for about 45 minutes, but check the outer rim of the brownie around the filling with a toothpick.

For the ganache, combine chocolate and peanut butter in a small heatproof bowl and set aside.

Combine cream and vanilla in a small saucepan and bring to a simmer over medium heat, about 3 minutes. Pour cream over chocolate mixture and let sit until chocolate is mostly melted, about 2 minutes. Stir until smooth.

Once cupcakes are cooled, pour ganache over each one using a spoon until the top is totally covered.
Let's Take This To the Next Level: velvet cupcakes w/ white chocolate cream cheese frosting
Sometimes communication is a struggle (basically the whole point of this article) and the person you've been casually seeing for weekend hookups means a little bit more to you than they should, but you can't say it. But hey, baking solves everything! Whip up these light and fluffy cupcakes, to simulate the wonderful relationship you would have, with frosting so rich it should be in a higher tax bracket, perhaps to imply the sex will still be good.
Use red cupcake liners and some red sprinkles on top to really drive it home that love could be involved (in case they didn't get the memo).
Fun fact: you can make buttermilk by curdling milk with some vinegar, and the measurement is 1 tablespoon of vinegar per 1 cup of milk. You basically just mix it then let it sit for 10 minutes until it curdles (ew). Do this instead of struggling to find / buy buttermilk!
Ingredients
For cupcakes:
1 1/4 cups all-purpose flour

1/2 teaspoon salt

1 cup granulated sugar

1/2 cup unsalted butter, softened

1 large egg, room temperature

1 teaspoon pure vanilla extract

1/2 cup buttermilk, room temperature

2 teaspoons liquid red food coloring

2 teaspoons cocoa powder

1/4 teaspoon baking soda

2 teaspoons white vinegar
For frosting:
8 ounces cream cheese, softened

1 stick unsalted butter, softened

1 teaspoon pure vanilla extract

3 cups sifted confectioners' sugar

2-3 tablespoons milk

4 ounces white chocolate, melted and cooled
Instructions
Preheat oven to 350 degrees. Line a regular muffin tin with cupcake liners (get fancy with some red ones covered in hearts to really drive it home).

In a medium bowl, sift flour and salt together, set aside. In another bowl, cream the butter and sugar with a hand mixer until light and fluffy. Add the egg and vanilla extract and mix well.

Add in the flour mixture and then the buttermilk. Mix well, again!

In a small bowl, mix the red food coloring and cocoa powder until a paste forms, then add to the batter. In another small bowl, mix together the baking soda and cider vinegar until it foams. Add to the batter immediately and mix.

Divide the batter evenly into the liners then bake for 12-14 minutes. Remove cupcakes from pan and let cool completely before putting that creamy cheesy frosting on.

In a large mixing bowl (clean some dishes and use the same one from earlier), beat the cream cheese, butter and vanilla until smooth. Add the powdered sugar and milk and mix. Add in the melted chocolate and beat for another minute to combine.

Scoop frosting into a sandwich bag, then cut off the corner. Frost the cupcakes with your handmade piping bag and then add some red sprinkles to really drive the Valentine's theme home (cause obviously, they don't know yet).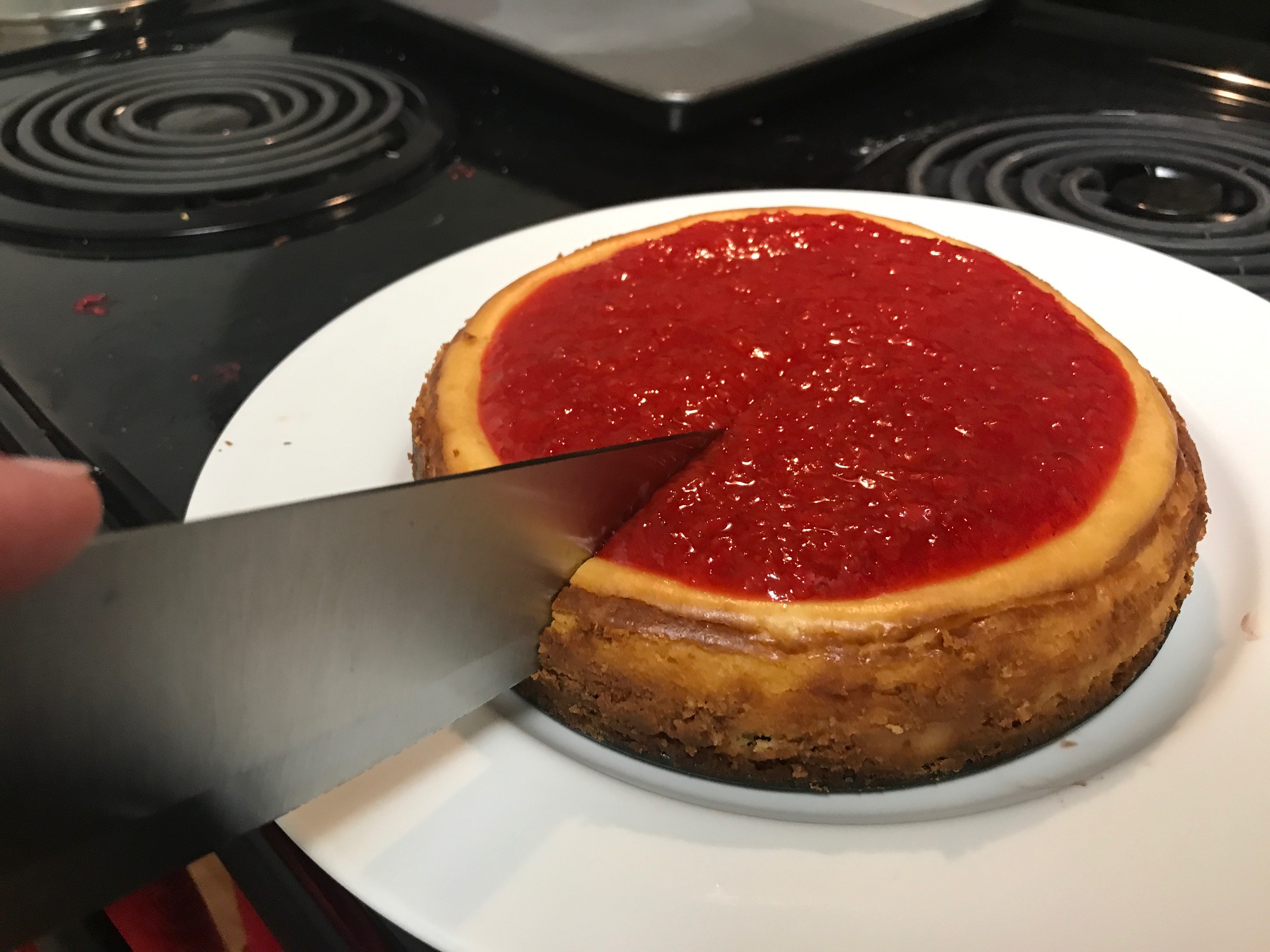 Literally in Love w/ you: New York-style cheesecake
Yields: 1 nine-inch cheesecake, about 12 slices
And finally, the biggest gesture you can possibly do (even more than a cake) is to bake a whole cheesecake because these things are not easy!! Fortunately, I found a recipe that I then modified to make it much more simple than the ones that bake for hours and hours and sit in water bath, etc. BUT this recipe still requires lots of love and effort, which you would put into a relationship with this person, right, so the message is clear.
I mean, if someone handed me a beautifully baked cheesecake topped with bright red strawberries and professed their love, I would 100-percent reciprocate it.
Last note about my modifications lol: I used a small, 6-inch springform pan that my roommate purchased from the lovely TJ Maxx and graciously let me borrow. Let me warn you now: NEVER make a cheesecake in a regular cake pan. You will never get it out and sadly be scraping it out of the pan for days, therefore not making your intended target fall in love with you. Invest in one from trusty Amazon or the twin of my roommate's life-saving TJ Maxx pan.
If you get the tiny one though, you'll have to get creative like me and halve this recipe (literally cut an egg yolk in half).
AND I adjusted the bake time because this recipe had a weird thing about turning the oven off so this worked just as well for me and should for you, too.
Ingredients
For the cheesecake:
1 1/4 cups graham cracker crumbs

1/4 stick unsalted butter, melted

1 1/4 cups granulated sugar

1 tablespoon all-purpose flour

4 (8-ounce) packages cream cheese, at room temperature

1 teaspoon finely grated lemon zest (from about 1 medium lemon)

1 teaspoon vanilla extract

1/4 cup heavy cream, at room temperature

1 large egg yolk, at room temperature

3 large eggs, at room temperature
For the strawberry topping:
1 1/2 pounds strawberries, diced

1 cup granulated sugar

1 teaspoon finely grated lemon zest (from about 1 medium lemon)

1 tablespoon freshly squeezed lemon juice
Instructions
Heat the oven to 325°F and arrange a rack in the middle. Grease the pan.

Place the wafer crumbs and melted butter in a medium bowl and mix until thoroughly combined. Pour the crumb mixture into the prepared pan and, using the bottom of a measuring cup, press evenly into the bottom and slightly up the sides.

Mix together the sugar and flour in a medium bowl and set aside. Beat the cream cheese in a separate bowl with a hand mixer, then slowly pour in the sugar-flour mixture and beat until incorporated.

Add the lemon zest and vanilla and then slowly pour in the cream and mix. Add the egg yolk, then the whole eggs one at a time.

Pour the filling into the prepared crust and spread it into an even layer. Bake until just the edges of the cake are browned and the center is set, about 50 minutes.

Remove the cheesecake from the oven and place it on top of the oven. Place a baking sheet over the cheesecake and let it cool for about an hour, carefully removing the baking sheet every 30 minutes to wipe away any condensation that has formed on the underside.

Remove the baking sheet and refrigerate the cheesecake uncovered until it's chilled, about an hour.

For the sauce, place the strawberries and sugar in a medium saucepan and stir until the berries are coated in sugar. Mash until about half of the strawberries are completely smashed but some medium-sized chunks remain.

Place the pan over high heat and cook, stirring occasionally, until bubbles form along the pan's edge, about 5 minutes. Add the lemon zest and juice, stir to combine, and bring to a full boil, then cook for about 2 minutes.

Refrigerate sauce for about an hour until completely cooled, then pour on top of cheesecake. Cool the cheesecake with the sauce until serving.
FIN